Our commitment is to bring as many smiles as possible by serving
ourselves as a bridge between Japan and the Philippines.
[ Our Vision ]
We will serve ourselves as a bridge between Japan and the Philippines to enrich life and mentality of the people.
・ We will provide high-quality Japanese langugage lessons.
・We will teach our students culture and spirit of Japan in order for them to have spiritual exchange with Japanese people.
[ Our Action ]
To understand our students and help them achieve their dreams by providing the training that is easy for them to understand.
To understand the requirement of Japanese society for human resources and to strive ourselves in improving our Japanese language education system.
To provide various people the opportunity to learn Japanese language.
[ Our Value ]
We bring many smiles by making dreams of our students come true.
We give vitality to Japanese society by providing Japanese language education that is required by the society of Japan.
We turn various possibilities into happiness through Japanese language education.
[ Introduction ]
"In the year 2025, we will lack 380,000 nurses!" Such a shocking news had caused anxiety to the society in 2016.
When we have interviewed people in the healthcare industry, many of them are saying that they lack nurses until now. What can we do to overcome various challenges in the future, such as aging society, the decline in the labor force population, to maintain Japan's national strength, social progress of women, and to live a comfortable life in retirement?
What should we do to maintain Japan's global competitiveness?
In an increasingly globalized world, we may be able to build an opulent society by cooperating with foreign people and living with them in harmony.
We serve ourselves as a bridge between Japan and the Philippines by training kind, cheerful, and honest human resources in the Philippines in such a way that both dispatching and accepting parties can have a peace of mind.
[ Please leave it to One World if you are a care worker! ]
In 2025, it is said that 380,000 caregivers will run short and it is urgent to nurture care workers. Filipino people also have influence of Christianity, can unconsciously help people in need.
I often see the hands of elderly people working in the streets. And, 10% of GDP was dispatched as a helper for the elderly in countries around the world, become the remittances from people who have a migrant abroad, in the Philippines to go to a migrant abroad is not uncommon. The Philippine government, in order to protect the Filipinos working abroad, provided the institutions like POEA, Philippines is extremely low compared with other countries regarding the run-away or disappearance rate of Filipinos with proper education & mentoring .
We, in cooperation with Philippines domestic universities, long-term care nursing school, administrative, We have created a curriculum that specializes in Japanese education of nursing personnel & was certified by TESDA (Philippines Labor and Employment Technical Education and Skills Office of Education) .
So, If you are a caregiver, One World Japanese Language Center Inc. is the right school for you!!
[ What We Can Do? ]
Quezon City has located few kilometers away from the capital city of Manila. With many schools and universities, Quezon City is also known as "City of Universities". Our Japanese language school is located in such an academic city.
Aiming to be the preparatory school for Filipinos who go to Japan to work, we teach not only Japanese language, but also culture and custom of Japan so that they can easily adapt themselves to the lifestyle of Japan. For those who are planning to hire human resources abroad, their biggest concern is perhaps the proficiency level of the Japanese language. How fluent they are in Japanese language? Can they speak Japanese well enough to do their job?
Another concern may be the difference in ethical perspective because of the cultural difference.

Solutions for all these are included in our training program.
We have established our own unique training programs and teaching system in order to meet various needs of our clients.
The lesson takes 160 hours a month. The one-month basic course starts with HIRAGANA and KATAKANA which also covers greetings and daily conversations.
We will teach our students all about Japan and its people--from culture, society, the way of thinking, tradition, custom, and more--so that they will not have hard time living in the country and will be able to adjust themselves smoothly to Japanese society when they arrived in Japan. Four-year nursing course is a course that provides training for technical interns of nursing, which will start in Japan in 2017.
In addition to one-year course, we also teach Japanese language skill up to N5 and N4, simple kanji characters, basic knowledge about nursing, and technical terms used in nursing.
[ Knowing Filipino People ]
Many Filipinos are Christian. Many of them are cheerful, maybe because of the warm climate of the country throughout the year.
Being a faithful Christian, Filipinos are taught to be kind to children and elderly. They also know how to take good care of them.
Such characteristics of Filipinos are allowing them to work in different countries in the world as caregivers and domestic helpers.
They also love of cleanliness and hate the shameful thing--characteristics which are very much similar to that of Japanese.
They love to sing, dance, and laugh. Their sunny disposition can help us brighten Japan together.
[ Current Situation of Filipinos ]
According to the house survey conducted by Philippine Statistics Authority (PSA) in 2015, average poverty rate of the Philippines has improved from 27.9% to 26.3%. Furthermore, its year-on-year rate of the real GDP growth in the first quarter of 2016 was 6.9%, which is relatively high among Southeast Asian nations. In reality, however, only few rich people are receiving the benefit of economic growth.
Article written by PSA clearly shows the disparity in the Philippines:
* Annual income of the richest families (top 10%) is 715,000 pesos (equivalent to 1,787,500 yen with the exchange rate of 1 peso = 2.5 yen) while the annual income of poorest families (lowest 10%) is 69,000 pesos (172,500 yen)--more than ten times lower than that of the richest.
* Richest families are able to save 213,000 pesos a year while poorest families are spending more than their income.
* By region, families in Metro Manila have the highest income of 379,000 pesos while families in Autonomous Region of Muslim Mindanao (ARMM) have the lowest income with 130,000 pesos--almost three times lower than that of families in Metro Manila.
* Gini's Coefficient of the Philippines is 0.4605 nationwide and 0.4028 in Metro Manila alone (warning line for the frequent social civil strife is 0.4). It also shows that income in other areas is lower than that in Metro Manila.
These facts are driving many people to seek for a job in Metro Manila. Due to the lack of industries in the country, however, many Filipinos are unable to find jobs and forced to live on a street or in a slum area. Thus, the vicious circle of poverty continues.
Table 13: Poverty and Inequality in East Asia
Population in Poverty
(in percent)1/ Gin
Proportion of
Population Below
$1.25 (PPP) a Day
Gini Coefficient2/
PRC
4.2 (2008)
15.9 (2005)
0.415(2005)
Indonesia
14.2 (2009)
18.7(2009)
0.368(2009)
Malaysia
3.6 (2007)
2.0 (2009)3/
0.462(2009)
Philippines
26.5(2009)4/
22.6 (2006)
0.448(2009)4/
Thailand
8.5 (2008)
10.8(2009)
0.536(2009)
Viet Nam
13.5 (2008)
13.1(2008)
0.376(2008)
Sources/Notes:
1/ http://www.adb.org/documents/books/
2/ WB World Development Indicators
3/ less than 2.0 percent; from ADB Basic Statistics 2011
4/ Based on National Statistical Coordination Board of Philippines ( NSCB) data
Source : Aspirations and Challenges for Economic and Social Development in the Philippines Toward 203
The table clearly shows us that the poverty rate of the Philippines is very high.
Data on the left shows the ratio of the poor, data on the center shows the number of people who earn 1.25 US dollars a day, and data on the right shows Gini's coefficient.
The Philippines is suffering from the high population of the poor despite high economic growth. Why is that? What causes it, we think, is the "disparity in the society". A spiral of disparity where riches get richer while poors get poorer. The reality of "having no stable job" symbolizes the society of the Philippines.
Under the law of the Philippines, termination of the employee becomes difficult when the period of employment lapses 6 months. Most of the non-regular workers called "unskilled worker" will be terminated from their job within 5 months and forced to find a new job. With the ample supply of human resources, companies simply replace their employees whenever they want. In fact, there was a case where a certain food company with 1,835 non-regular workers has been hiring non-regular employees on a monthly basis while terminating all employees who have worked for 5 months. Thus in reality, wealth goes only to the few rich people (although middle class is now increasing in number because of the recent growth of economy) while poor people will be remained caught in the negative chain.

[ Characteristics of Filipinos - Work Abroad ]
The Philippines has one of the largest numbers of citizens working abroad in the world. In 2012, the number of Filipinos who had left the country to work abroad was 2.08 million. According to our source, the number of Filipinos who had departed from the Philippines was 2.08 million while the number of overseas Filipino workers (OFW) was 8 million (including illegal aliens). Considering that the labor force population of the Philippines in 2013 was approximately 45 million (estimate), it means that more than 20% of labor force population is working abroad. Approximately 3,000 trainees are coming to Japan every year.
According to the news media, the population of the Philippines has exceeded 100 million in 2014, which is nearly double the population 30 years ago (approx. 52 million) (120 million as of 2017). Labor force population of the Philippines, which is currently around 45 million, is increasing by 1 million every year. Since the growing BPO industry (outsourcing industry) alone cannot accommodate all of them, many Filipino workers seek jobs in other countries. Local Filipino workers have the reputation that they are lazy, but once they are sent abroad, they will turn themselves into very diligent workers.
According to Bangko Sentral ng Pilipinas (BSP), total remittance from OFW in 2015 was record-breaking 25.767 billion USD (equivalent to around 2.9307 trillion yen), which is higher than the previous year by 4.6%. GDP rate was 9.8%, which is higher than that in 2014 (8.5%). Breakdown of total remittance in 2015 is the following: 20 billion USD from workers on land; and 5.8 billion USD from workers on the sea. With English speaking ability, it is quite common in the Philippines to work abroad. For Filipinos, working abroad is a sort of status symbol and at the same time, a great opportunity to earn a large amount of money. Many Filipinos are coming to Japan to make their dream come true.
[ Activities of ONE WORLD ]
[ We help Filipinos find their jobs when they return to the Philippines ]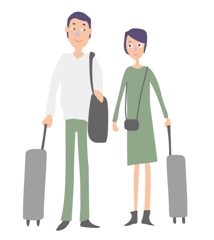 What are things that we can provide Filipino people who study in our school and head to Japan for work?

Is it a Japanese language lesson that helps them to work in Japan? Is it a Japanese language lesson that makes both Japanese society and Japanese companies happy? Is that it?

We believe that teaching Japanese language is just a minimum requirement.

Is it a Japanese language lesson that helps them to work in Japan? Is it a Japanese language lesson that makes both Japanese society and Japanese companies happy? Is that it?
Many trainees are not able to find jobs in their home country when they have returned from Japan. So, maybe we can bring smile to the face of many Filipinos and give them a peace of mind if we can provide jobs for our trainees when they return from Japan.

Going to Japan should not be their goal, but rather to enjoy an affluent life in the Philippines when they return from Japan. We also believe that our plan can effectively prevent them from committing a crime while they are in Japan. Because many of them commit crime due to worries about job and life in the Philippines when they return.

We think that we can also establish a system that allows accepting companies and associations in Japan to hire Filipinos without worry. Thus, our plan is beneficial to both Filipinos and Japanese Companies.
[ Giving Unused Second-hand Children's Wear in Japan to the Children in the Philippines ]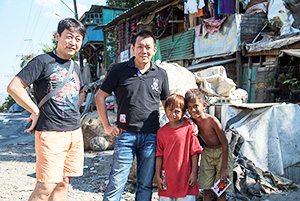 I went to the area affected by Chuetsu Earthquake to do the volunteer activity for the first time. When I had actually faced victims on site, I did not know what to do at all. I realized how helpless I am. In 2011, the Great East Japan Earthquake had occurred. I have invited groups of local businessmen to join the relief operation, gathered relief goods, and personally went to the earthquake-stricken area with my car. The damage caused by the earthquake was still fresh. There I saw a heap of rubble at the seashore, members of defense force searching for missing residents, and bewildered earthquake victims. Today, I am still providing support to victims of the Great East Japan Earthquake while making the best use of lessons I have learned in Chuetsu earthquake.
During the relief operation, I noticed that many of those who want to help victims do not know what they should actually do. "What can I do to help them?" "What should I do to help them?"--these questions keep preventing them from making necessary actions. When we have approached these people, they have taken the initiative in supporting and helping others with pleasure. Looking at them helping victims like a fish in water, I have realized that there should be a middleman between [those who need support] and [those who give support]. Such experience of mine had given us our mission to be the bridge between them and our policy of "Work for Others with the Help of Others". In the Philippines, many children are also suffering from poverty--so poor that they are not even given enough clothes to wear. In Japan, on the other hand, many people, who have learned about these children through TV and news, are willing to help them. We have started "Hallelujah Project" that collects unused second-hand clothes in Japan and send them to poor children in the Philippines. If you are willing to support our activity, please call us.